Luxury Custom Kitchens
In Toronto
Breathe New Life into your Toronto Home with an Elegant Kitchen Remodel
Exclusive Lifetime
Warranty.
About Reno Kitchen+
Your kitchen is the most important room in your home. As a central family meeting ground, a beautiful and welcoming design is a must. Condo Renovation & Remodeling In Toronto knows this. When looking to remodel we, therefore, connect you with Toronto's most trusted kitchen architects and designers.
As kitchen makeover specialists we stay up to date with the latest kitchen renovation trends. We also offer in-house custom kitchen cabinet design. This way, each of our Toronto clients benefits from finished kitchens which precisely match their unique design and functionality goals.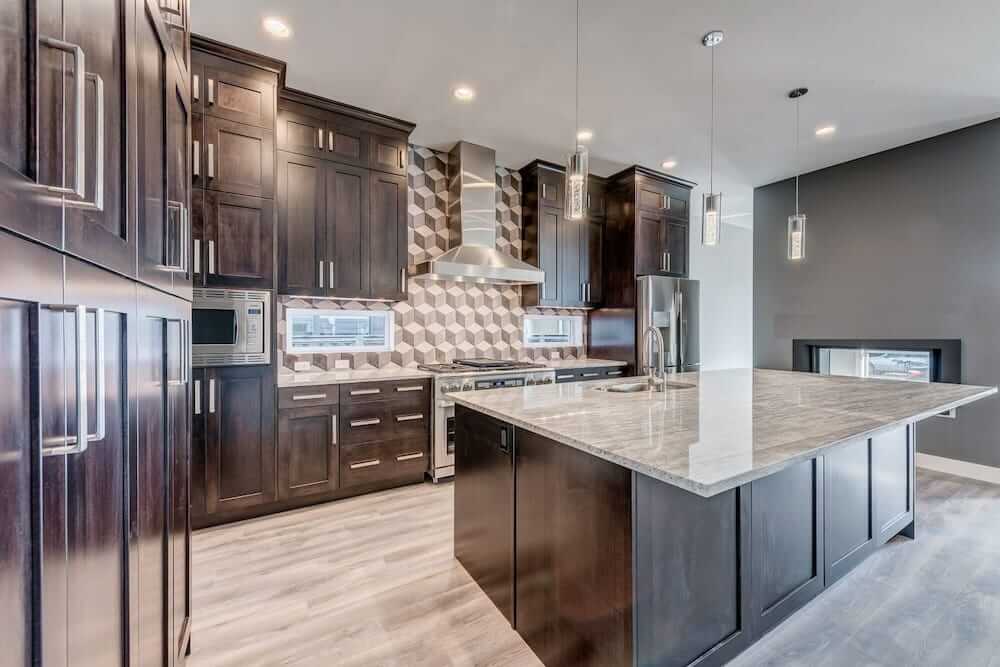 Reno Kitchen Plus is a leading Toronto kitchen renovation company. We specialize in standout design and use only the highest quality materials in any remodel we undertake. However, as well as high-quality, we also specialize in affordability. To help you accurately budget your next remodel, we offer free, no-obligation renovation estimates.
Kitchen & Home Improvement Experts
Your kitchen is more than just a food preparation area. Toronto kitchens are ultimately social spaces. However, kitchen design trends are constantly changing.
To make sure your next remodel stands the test of time, Reno Kitchen Plus create detailed plans for every kitchen renovation. During the design phase, our designers and cabinet craftspeople, discuss material choices and kitchen colour schemes in meticulous detail.
No renovation is too unique, striking, or rustic for us to accomplish. We can also be trusted to bring even the most luxurious custom kitchen remodels from concept to completion on time, and on budget.
In-House Kitchen Cabinet Design
Counters, islands, shelves, and cabinets are the pièce de résistance of any kitchen remodel. To equip your kitchen with distinct creativity, we custom design and manufacture all our kitchen cabinets in-house.
By designing and manufacturing kitchen cabinets in-house, cabinets can be personalized to reflect the bespoke functionality requirements of your kitchen. Our company also use only the highest quality cabinetry materials. This means that as well as perfectly complementing individual design tastes, cabinets created by us are also highly durable.
At Reno Kitchen Plus, our custom cabinets, countertops, and kitchen islands can also be designed in mind of smaller kitchens and non-conventional kitchen architecture.
Client's Testimonials
<div>Reno really knew what they were doing. Our new kitchen process included plumbing and electrical work and a lot of demolition. Communication was top-notch throughout, and Reno kept all disruption to a minimum.</div>
Seeing how fabulous our new kitchen is, I'm more than happy to leave a review! Reno Kitchens transformed our pokey condominium kitchen into a Luxury new food prep and entertainment area. We couldn't be happier.
So far our remodeling process has gone very smoothly. We were able to work out a schedule where work only started after the school run. We were unsure about what would be involved to start with, but communication was excellent, and the results are fantastic.
All over Toronto, there are kitchen contractors who really turn the heat up with pricing. Reno Kitchen Plus didn't, and our new kitchen was completed in time and on budget.
Every problem we had with our first fixer-upper home was responded to by Reno with a quick solution. Our new kitchen showcases the traditional look we wanted, and the team really went above and beyond.
3298
Project Completed
On the other hand we denounce
755
Happy Clients
On the other hand we denounce
10
Years in Business
On the other hand we denounce
When is the Right Time to Renovate?
A kitchen renovation is no small undertaking. However, not renovating a kitchen can itself prove costly. When putting a property on the market, a dated kitchen design can subtract value and deter buyer interest. A remodel solves this problem. As well as increased market value, a bespoke kitchen remodel can add extra livability to a home. Mass produced cabinetry and off-the-shelf kitchen designs age poorly. Renovating, therefore, breathes new life into kitchens, while upgrading the overall quality of essential fixtures and fittings.
How to Plan & Prepare for a Kitchen Remodel
When planning a kitchen renovation or glass shower choosing the right company is essential. At Reno Kitchen Plus, we make this step easy by offering free initial consultations and completely transparent pricing. That said, there are still other practical steps to consider.
A kitchen remodel can last from a few days to a few weeks. In every case, it is therefore essential to discuss completion times with our design team. During this time, homeowners will need to set up a temporary food preparation area and budget for eating out. Arrangements for pets should also be considered.
The Kitchen Renovation Process
Your kitchen is the heart of your home. For this reason, it is essential to choose a layout, design, and level of functionality, which is a perfect fit for your personality
Step 1
Before contacting a company, research what design styles you think will be an ideal fit for your kitchen
Step 2
After reaching out to Reno Kitchen Plus, don't be afraid to voice concerns, if our preliminary design outlines don't align perfectly with your dream kitchen vision
Step 3
Before embarking on a remodel, make sure to make arrangements for when your kitchen will be off-limits from a food preparation perspective
After settling on a design, creation of a new Luxury Custom Homes Contractor In Toronto kitchen will necessitate complete removal of existing cabinetry, drywall, sliding doors, home security and appliances. Plumbing and electrical alterations are then undertaken, before construction begins on new drywall and your choice of custom cabinets.
Upon completion of kitchen cabinet and island installations, Reno Kitchen Plus attend to all final finishing touches. These can include the painting of walls and ceilings, installation of new backsplash tiling, and laying of new kitchen flooring materials.
Get Free Kitchen Renovation Estimate
Please call or email contact form and we will be happy to assist you.
Contact Info
Address: 531 Pelletier Ct Newmarket,
ON L3X 2N7