Design Your Dream Kitchen | Vaughan Kitchen Renovations
Reno Kitchen Plus is a local to Vaughan kitchen renovation contractor. We specialize in full and partial kitchen makeovers. As bespoke kitchen design specialists, we bring kitchen renovation ideas from concept to completion which are modern, luxuriously designed, and guaranteed to add value to Vaughan homes. Kitchen renovations by Reno Kitchen Plus are custom tailored to the precise needs of every Vaughan homeowner. During every remodel, we incorporate unique design elements which are sympathetic to your existing kitchen architecture. We also custom manufacture beautiful bespoke cabinetry, countertops, kitchen islands, and cooktops.
Custom Kitchen Cabinetry
Reno Kitchen Plus never bring renovations to completion using mass-produced kitchen cabinetry. Instead, we custom manufacture kitchen cabinets and wall units in our own workshop. Doing so guarantees exquisite craftsmanship and attention to detail. Cabinetry manufactured by us also retains its aesthetic appeal long after installation.
Free Kitchen Remodeling Estimates
Reno is first in Vaughan for the design, manufacture, and installation of bespoke kitchens. We also offer free, no-obligation estimates to all local homeowners.
Kitchen Renovation Benefits
Modernizing and remodeling a kitchen passes more than just enhanced livability benefits onto Vaughan homeowners. During every remodel, Reno Kitchen Plus strive to improve home comfort, safety, and overall kitchen functionality. Doing so breathes new life into Vaughan homes, and helps add considerable extra market value.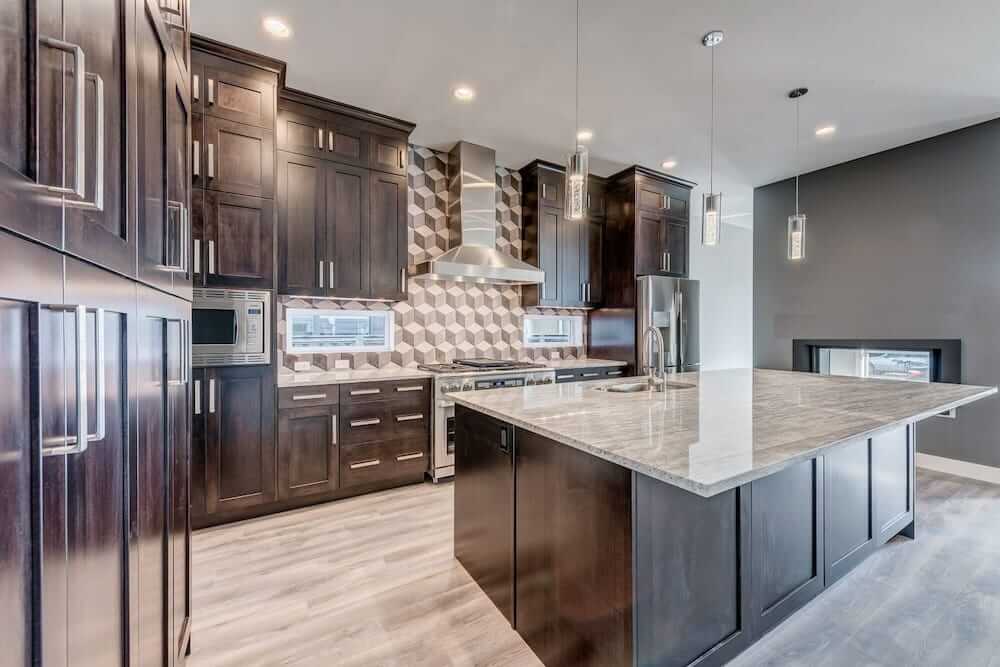 Kitchen Remodel Planning & Preparation
Reno Kitchen Plus pride ourselves on offering extraordinary value, exquisite craftsmanship, and ease of planning renovations. A contractor from our team is always on hand to discuss all design, budget, and planning concerns. We also plan installation schedules in a way which seeks to minimize disruption to everyday home lives.
The Reno Kitchen Plus Design Process
Every Vaughan home is different, and every homeowner has different kitchen design preferences. For this reason, we start every kitchen remodel with a thorough discovery phase. During this time, we learn as much as possible about your specific design goals. Our designers and kitchen architects then take dream kitchen ideas and match these with different materials and styling options.
After selecting your preferred countertop and cabinetry materials, Reno Kitchen Plus craftspeople get to work manufacturing different design elements. Throughout every step of this process, we keep clients regularly updated. On completion, we then work with clients to arrange a minimally disruptive time for final installation.
Reno Kitchen Plus Services
Reno Kitchen Plus offers the best value on completely bespoke, value-adding kitchen wall units, manufactured using a variety of materials.
Design and build the kitchen of your dreams, by working with Vaughan's most accomplished kitchen architects, designers, and carpenters.
Add value and reinvigorate the aesthetics and livability of your kitchen, by investing in customized kitchen cabinetry and bespoke storage build-ins.
Get Free Kitchen Renovation Estimate
Don't settle for second best when decorating or renovating. Showcase your personality and add value to your home, by investing in beautiful custom wall units and built-in storage. Call now for a free, no-obligation consultation and project estimate.
Contact Info
Address: 531 Pelletier Ct Newmarket,
ON L3X 2N7